The difference between R1 Pro and R2
WalkingPad R2 Treadmill as a new walkingpad machine, everyone compare it with walkingPad R1/R1 Pro as soon as it came on the market. Next, Kingsmith will introduce the difference between WalkingPad R1/R1 Pro and R2. All the machines in the industry are too big to waste home space, while installation is laborious, while R series walk and run all-in-one machine, folding patent to meet the needs of home to save space, at the same time, free installation technology save worry and effort, auxiliary semi-hidden roller patented technology easy movement is not a thing.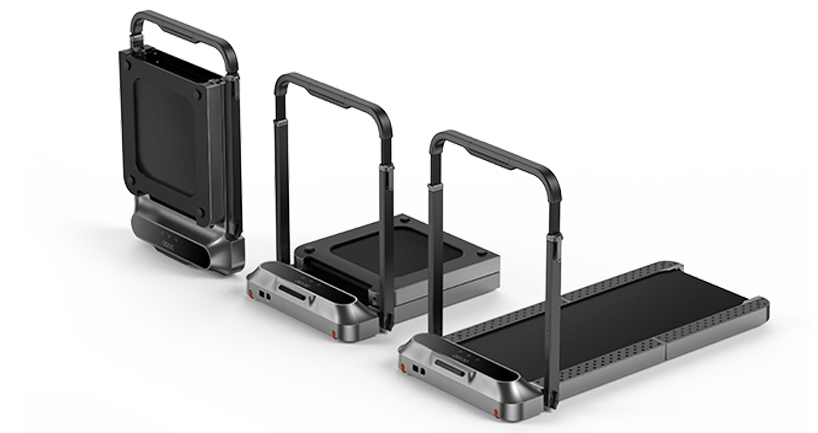 Walkingpad R2 vs R1 Pro: Design
R2 remain the most compelling reasons of the 180° folding body that taking up just an area of less than 0.2 square meters. Then upgraded its appearance with Featuring metal texture spray paint processing and right Angle aesthetic design to make it more ornate and wearable. The luxury pedal design (with rubber anti-skid material) adds anti-coasting to make your running experience safer. In particular, the armrest design of R2 will not produce static electricity in the dry environment.

Walkingpad R2 vs R1 Pro: Features
WalkingPad R2 comes with a better storage box and phone holder that lets you run while having fun and not miss any good times. And say goodbye to the embarrassment when remote control and the safety lock nowhere to place.
The WalkingPad R2 has 20 adjustable speeds: 0.5km keep writing and games without distraction, less than 2km for reading and time with mobile phones, less than 3km for watching TV dramas, 4km for concentrated walking, 6km for jogging, 10 minutes of sweating, and 10km/h for fast running.
WalkingPad R2 also adds a new way to connect your KS Fit app with Bluetooth. It can improve your connection speed.
Walkingpad R2 vs R1 Pro: Conclusions
R2 retains the integrated skeleton of R1, foldability, quiet brushless motor, soft shock absorption running belt and so on. It has been upgraded in function and appearance, making it more durable, more beautiful and more convenient for home use.
Besides R1 Pro and R2, WalkingPad also offers several walking pad treadmills, with many color options and great quality, as well as go there to find popular pink treadmills and treadmill 300 lb capacity now!
Six Reasons to Choose the New Treadmill R2 
Better Speed 
✓ 0.5~7.45 MPH make the Max-speed better 
Better design 
✓ Sports style design
✓ Luxury car pedal design inspiration
✓ Bangs handrail design 
More convenient storage
✓ Have fun while exercising
✓ More convenient storage of remote control and safety lock 
 Better details 
✓ Upgrade details are more intimate 
Stronger stability 
✓ Steel handrails are more stable 
Better display 
✓ Acrylic + LED lamp beads make the dispaly better 
-
-