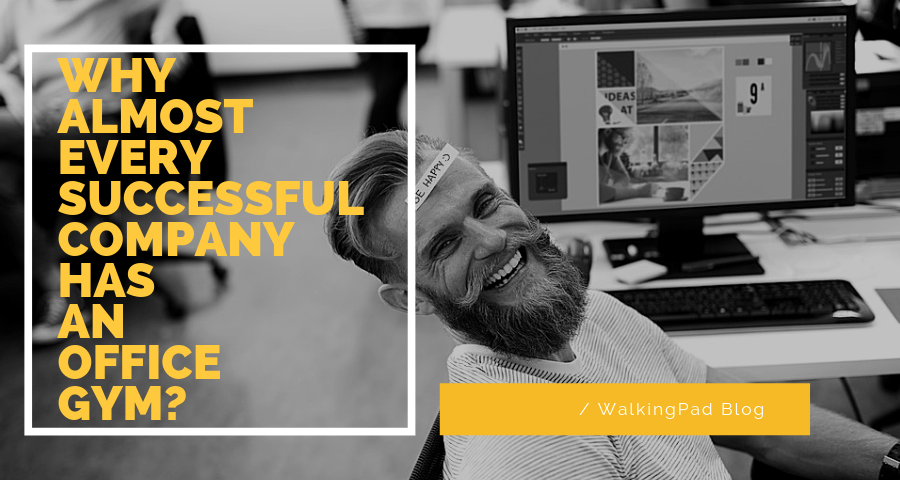 Why almost every successful company has an office gym?
The ever-growing nature of office work lifestyles has led to very many people getting lost in their routines and neglecting exercise.
A person's typical routine could be working for 8 hours, then going home to lie down, eating dinner and watching television until they sleep, hardly a healthy lifestyle for anybody.
This article is going to be about companies that believe in the incorporation of an office gym and a workout culture for their team, and the benefits this can bring to a business.
Many successful companies have an office gym
Many successful companies have one main thing in common, on-site gyms for their employees.
Here are some examples of well-known companies that promote a healthy culture and have their own gyms as part of their headquarters.
There must be a link between these healthy office cultures and the scope of their business, it makes perfect sense. Here are 4 examples of world-renowned companies that have gyms as part of their office headquarters.
Microsoft takes care of its employees. Not only do they provide free facilities such as paid gym memberships and regular health care checks, but also with facilities such as spas, sports fields as well as health and fitness counseling for their employees.
In fact, they've nicknamed this healthcare center the "Microsoft living health center".
As a sportswear brand, Nike does, in fact, practice what they preach. Their nicknamed "sports performance center" is another example of a company that has provided impeccable fitness facilities for its employees.
The center includes an Olympic sized swimming pool, a rock-climbing wall, as well as running tracks and trails for those who wish to go the extra mile (literally). A great example of a company that prioritizes their employee health and fitness, and a good one at that.
The Google HQ is famed mainly for its vibrant design, and facilities such as "napping pods" for employees who wish to take a nap on their breaks.
As well as complimentary food and drink being provided to help boost their employee morale, they also provide a gym surrounded by a running track, and massage facilities for their lucky employees.
With Unilever being a multinational company: Providing a wide array of products, from Dove lotions to Lipton iced tea, you can only imagine the amount of day to day stress their team must undergo.
Unilever provides for its employees, a "Movement Zone" where employees can stretch, do yoga and light exercises. This as well as a silent area and a wellbeing zone.
An area like this wouldn't be too hard to incorporate into your office environment; it just takes a spare room and some redecorating.
Why successful companies have on-site gyms?
Successful companies are smart to include on-site gyms as part of the lifestyle for their employees. There are a few reasons why.
On-site gyms are good for morale
Firstly, an on-site gym is great for morale.
It can be beneficial for team members to get to know each other, encourage each other to regularly work out, and provides a healthy work-life balance for employees – many of which may find it hard to balance fitness and work.
With the team-building and pack mentality that can stem from working out with others, one could say that an on-site gym would be great to provide the opportunity for regular team building.
Exercise can improve cognitive function and productivity
Exercise, even moderate as opposed to high intensity has been proven to help boost cognitive function, as well as memory for many people.
With the blood pumping more efficiently, blood carries oxygen to the brain quicker and helps boost general thinking and problem-solving abilities among those who exercise regularly.
High-intensity exercise has also been said to improve the speed of information processing, these results concluded in the following research study on NCBI.
Exercise can improve both mental and physical health
Exercise can benefit you from an all-around perspective. With even moderate intensity exercises performed on a regular basis minimizing the likelihood of catching a cold, with a general immune boost being one of the effects of regular exercise.
Exercise also releases endorphins and can be useful for maintaining high spirits, going back to the point on on-site gyms being good for morale.
The endorphins released from exercise can also help assist in the management of stress, improving memory and overall mood.
With the stress that comes with a wide range of modern professions; an opportunity to exercise on-site daily could make a significant impact on the overall mental, as well as physiological health of your team.
Should companies allow employees to use office exercise equipment during working hours?
Most companies allow employees to take brief breaks throughout the day to make a coffee, go to the shops or even for a brisk walk.
We believe companies should start shifting the culture to allow 15-minute exercise breaks, which could be beneficial in the following ways:
Employees will be happier, as exercise releases endorphins, encouraging employees to take breaks and work out on those breaks will help them to be happier at work; a great way to let off steam throughout the day.
Stress and anxiety are two of the most common psychological issues many people suffer from on a day to day basis; these both can be improved dramatically with the natural incorporation of exercise to your routine.
For demanding roles that may bring a lot of stress to the table, it is wise to encourage an active environment while at work; This will help boost productivity from the cognitive benefits of exercise, as well as preventing your team from overworking.
It is said that for 4 hours you work; you should take a 15-minute break.
An office encouraging a fitter lifestyle can spice these breaks up to benefit employees, rather than the common coffee and cake breaks that tend to feed the sedentary, sluggish attitudes that many people live with.
Every company can encourage healthier habits that will improve the office's overall environment, and in turn, productivity.
How to design an office gym program for a small office environment?
In an ideal world, everybody would be working out throughout the day, keeping their blood pumping, especially if they work from a desk.
There are many workouts that can be done in the office, as well as office exercise equipment that is intentionally space-saving, providing a convenient solution to those wishing to work out in the office.
Here some examples of office exercise equipment and workouts that can be done in even the smallest of office environments.
1.Hand Gripper
For those looking to strengthen the wrists and forearms throughout the day, handle grips are perfect. Simply squeeze and feel the results in time, switching hands throughout the day.
A workout so light that it can even be done on your lunch break, hand grips are perfect even for the laziest people.
2.WalkingPad walking Treadmill
Standing desks are becoming more commonplace, in a variety of industries, as sitting for prolonged periods has been proven to negatively affect health.
This, with the WalkingPad walking treadmill, is the perfect solution for those who don't get to walk around and stretch their legs much – Now people can use a treadmill all day without the need to go to the gym once work is over!
Perfect for stimulating lymphatic flow and working the calf and abdominal muscles.
3.Push Ups
Push-ups are a chest and tricep workout that can be done in a quick break in the office gym.
On the way to get your morning coffee, take a moment to get some reps in; repeat this every hour and you should see some dramatic gains, all during working hours!
4.Desk Exercise Bike
You know you're living in the future when there are now bikes that you can use, instead of seats, for your day to day office work.
Never again would you feel tired from sitting all day and damage your posture, give your legs a consistent workout with an exercise bike for your desk!
5.Dumbbells
Another piece of equipment to provide a convenient bicep workout for any time during the day.
Easy to put away, can fit in your drawers, and can be used for a range of workouts, dumbbells are a great option to consider when incorporating the office in your fitness routine – Just try not to be too noisy!
6.Skipping Rope
A workout that may be a bit distracting for some, but a great form of cardio that can be done in the corner of even the smallest office (unless you have low ceilings).
An easy piece of workout equipment that can be kept in your top drawer and a fun workout that can be done daily at the office gym.
This is for those who want to incorporate a bit of cardio to let off steam throughout the day, just ensure you take precautions when doing so.
7.Desk steppers
For those who aren't quite keen on pedaling for hours on end, can instead invest in a desk stepper, to tone up the legs, while sitting in their normal seat.
This is a great introduction to daily leg workouts and is low intensity, perfect for beginners. Targeting the hamstrings and calf muscles, desk steppers are ideal for those who don't do much leg work during the week.
8.Squats
An easy bodyweight workout that can be done in the corner of any office environment, even the toilet if there's no space in your cubicle.
A bodyweight workout that works the glutes, hamstrings, and core, squats are a perfect workout that you can do from the office gym. Start off with 3 sets of 20, and gradually increase that during the week.
9.Dips
Make sure you aren't distracting anyone at first, but this workout can be beneficial for the triceps, chest and trap muscles.
Simply suspend yourself from your office desk, extend your legs, dip and push yourself up for ten repetitions, this can be done 5 times a day for beneficial effects.
Should companies purchase gym memberships for employees?
Working at companies can now come with many incentives.
Some of which include games rooms, flexible working hours, days you can work from home, and regular team trips.
Expenses are also a common benefit becoming more of a prevalent thing in today's working culture. With many companies covering employee expenses for a range of purposes such as travel, food, and more; it's only right they provide them with gym memberships too.
Gym memberships not only will guarantee a happier workforce but a sharper, more productive one also.
Here are some of the potential benefits a company could soon see if they sort gym memberships for their employees:
Benefits for Employers
As exercise improves overall health, the likelihood of their employees falling ill is decreased, meaning a healthier, more punctual workforce.
Despite the physical and mental health benefits for the employees, which ultimately benefit the employer and company as a whole; gym memberships for your team could be an opportunity for team building daily, creating healthy habits and helping to maintain a happy, healthy workforce.
Benefits for Employees
Although healthier teams and more punctuality can benefit an employer, of course, it mainly benefits the employee. With an opportunity to be fitter and healthier, provided by your employer, an individual will be more inclined to adapt to that lifestyle and will be thankful for it.
As mentioned, the general morale will improve, employees will be less likely to be stressed, and if the gym is local or part of the office location, then it will provide a healthy work-life balance for your team.
If you provide your employees with a local gym membership, you'll be helping them with creating and sticking to, a regular fitness routine.
Conclusion
Bottom line is, office exercise is good for the mind, body, and soul.
And just because you work at a desk, doesn't mean you don't have time to work out in your day.
Hopefully, we should see an overall shift in the company's attitudes to work-life balance, incorporating more on-site gyms and encouraging healthier lifestyles.
Benefits of office exercise equipment include positive impacts on cognitive function, mental health and physical health of an individual – An employer would be missing out if they overlooked the incorporation of an office gym as part of the office's environment and lifestyle.