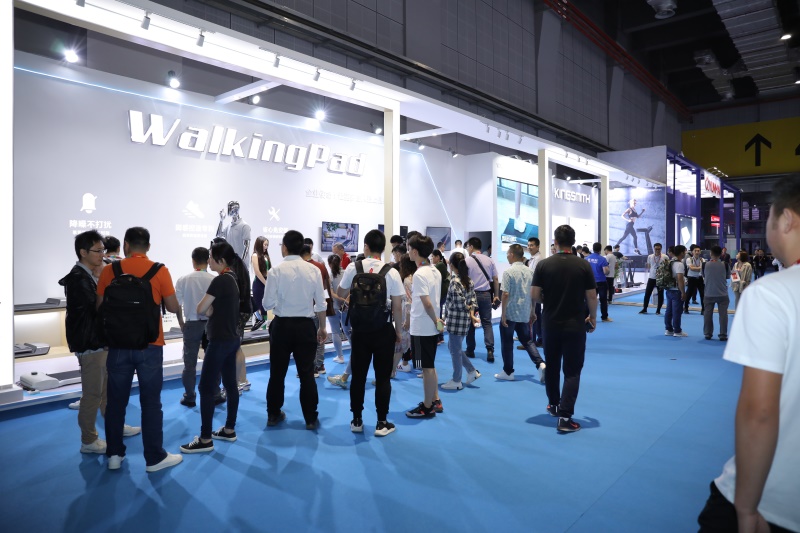 WalkingPad won a good reputation with a unique foldable design at China Sport Show 2019
The China Sport Show 2019, an exhibition of the largest scale in the Asia-Pacific region, was held last week(May 23rd – May 26th ) at the National Convention and Exhibition Center in Shanghai. Nearly 1,500 exhibitors participated in the exhibition, covering fitness, bodybuilding, recreation, nutrition, sports, venue facilities and construction, and more.
WalkingPad participated in this exhibition for the first time and won a good reputation from most participants. They love the foldable design made on the WalkingPad walking treadmill. WalkingPad was given a lot of praise after the participants have experienced the machine.
Design is the key differentiating factor for WalkingPad
Most of the treadmills participating in the exhibition are still designed with traditional models, the big machines. Comparing to traditional ones, WalkingPad has a patent with foldable design, which is enough to make it outstanding from the crowd.
The unique foldable design has resulted from repeated verification and improvement work. It makes WalkingPad fit for the home gym or office workstation. People can make full use of the scattered time to exercise with this WalkingPad device, to reduce the sedentary lifestyle health risk.
Prior to this, WalkingPad has been unveiled at the 2019 International CES in the US and the ISPO Munich 2019 in Germany.
Surely, it will be exhibited at the coming ChinaFit Convention 2019 in Beijing this June. See you then!